OUR COMMITMENTS
We've been helping people to buy their dream cars for nearly 20 years, people are at the heart of everything we do. Read reviews from customers who have bought and sold their classics with us, hear what it's like behind the scenes from our employees and get a taste of what day-to-day life is like at Car & Classic.
Our values represent the foundations of our business, the way we operate and the attitudes we uphold. Our commitments are promises made by our leadership to the Car & Classic team, they're a way of showing appreciation for everyone's hard work and a guarantee of the level of care and support each individual will always be given.
We commit to surrounding you with the most talented teammates who are as passionate about growth and success as you are - drivers, not passengers.

We will empower our people by developing growth mindsets and investing in the right tools, creating an agile backdrop for our teams to succeed so we can grow at pace.

We promise to create a safe, open and transparent environment for feedback, remove blockers and won't shy away from sharing data (good or bad!) and making tough decisions that benefit the whole.

By enabling you as individuals and together as teams to succeed, we will achieve our mission to revolutionise the classic vehicle transaction.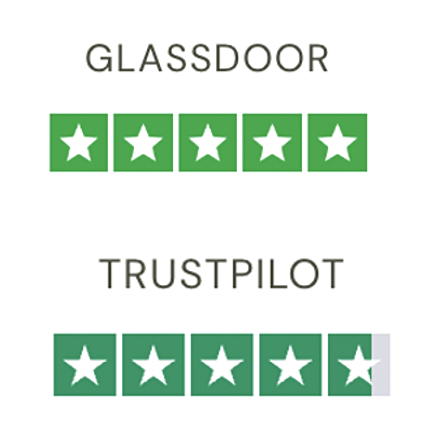 WHAT DO PEOPLE SAY?
Whether our colleagues, buyers, sellers, suppliers, candidates, investors or anyone we meet in the business of selling classic cars, in all of our actions we will consider how it may affect others. We will strive to work with integrity, passion, innovation and collaboration.
You can hear more about what our people say on Glassdoor
And what our customers say on Trustpilot
GLASSDOOR
"Car and Classic are a team full of welcoming and wonderful people. From the interview process to the training and onboarding, it's seamless. Management are genuinely caring, and bring out the very best in you. The support is endless from team members, and hard work is appreciated and noted continuously. There is lots of room for progression, and every day is interesting and motivating."

"Car and Classic is definitely the best company I have worked for, the values, the people that work there... Just amazing!"

"This company has been such an incredible experience in my first three months and the drive from the staff at all levels really enhances the experience. Working remote has never been so inclusive. Honestly don't think I could have found a better company to settle into, they just care!"
THE CAR & CLASSIC TEAM
Being an entirely remote team has never held us back. In June 2022 the Car & Classic team got together for the first time in over two years. Even though 70% of the team had never met, everyone connected instantly and enjoyed time getting to know each other better, going head-to-head in high-stakes competitions and coming together to plan the next stage in our journey.

We enjoyed it so much, we had another all-company get-together in September 2023.